Pricing and Capacity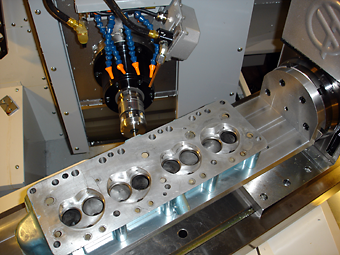 Our machine is one of the largest in the UK capable of doing this kind of work, it is also well suited to small cylinder heads and ports. It is one of a very few to run full simultaneous 5 axis, with only one set up. Most jobs run with a single cycle reducing maching time to aound 1 hour per port.
Cylinder head Capacity 900mm max length, with current fixtures. Longer can be accommodated with special set ups
Aluminium or cast iron materials
All port shapes catered for, straight, Siamese etc
Approximate Costs - Porting
£3,000 set up, then £500 per head, one at a time or in multiples.
Approximate Costs – General head machining – Not including ports
Heads fully machined
10K set up (to complete our CAD drawings, make fixtures, dedicated tooling, write CAM machine programs and machine first 10 off, split into 2 batches)
Then £500 per head thereafter.
Pattern work can be undertaken for total turn key new cylinder head projects - please enquire.
All prices quoted are exclusive of VAT.